September 2022
Congratulation to Leonie the Beaumont RCSI Cancer Centre Scientific Director celebrating a successful launch and OECI accreditation. https://beaumontrcsicancercentre.ie/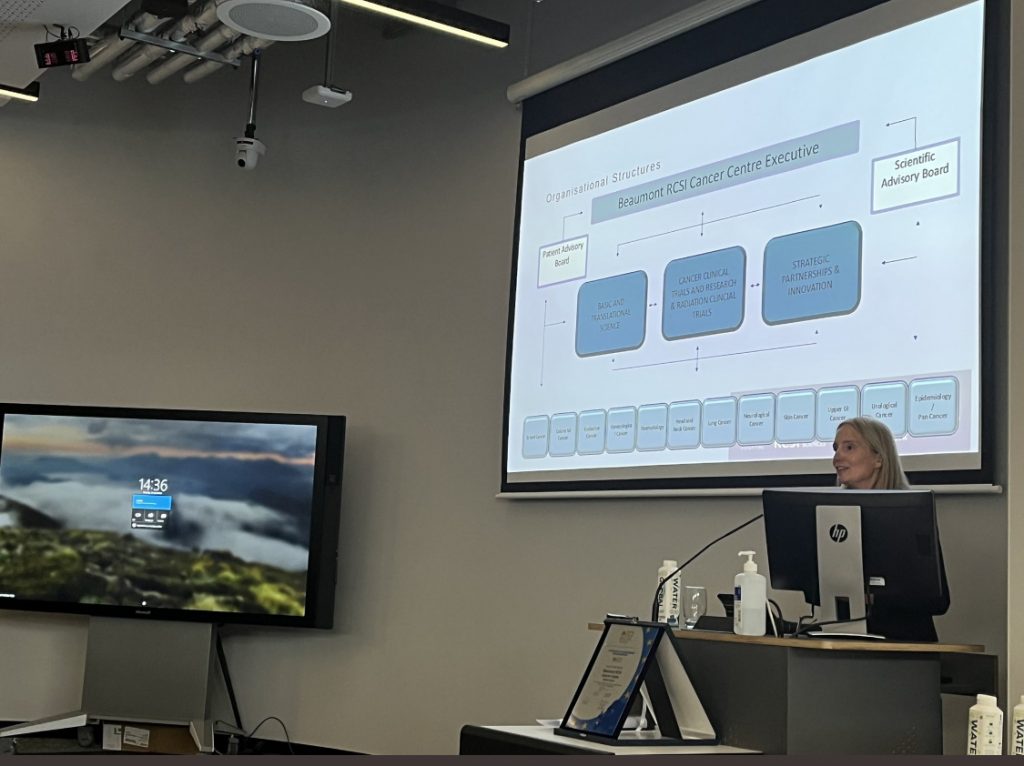 March 2022. Congrats to Leonie, Damir and Arnie on starting an RCSI spinout company Probmet. https://www.probmet.com/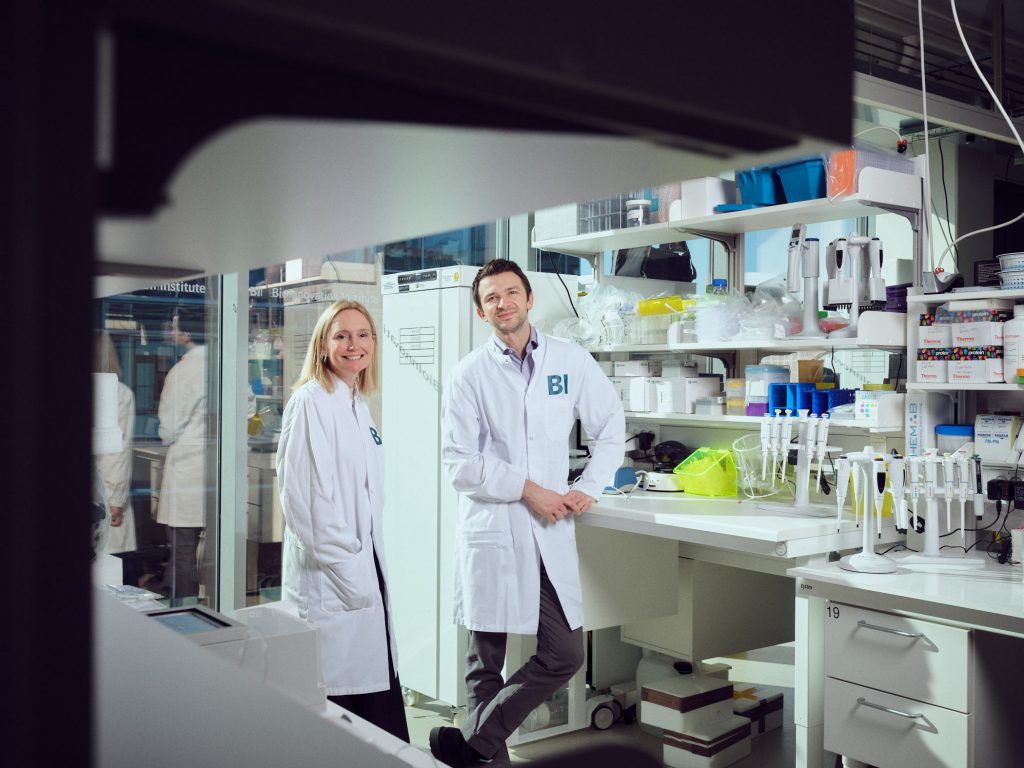 January 2022. New study from the team published in Nature Communications. Congratulations to all the authors.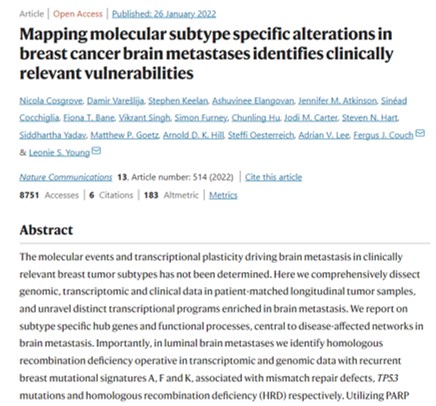 04.02.2020
Our new study dissecting the role of AIB1 in endocrine resistant metastasis is published in Oncogene.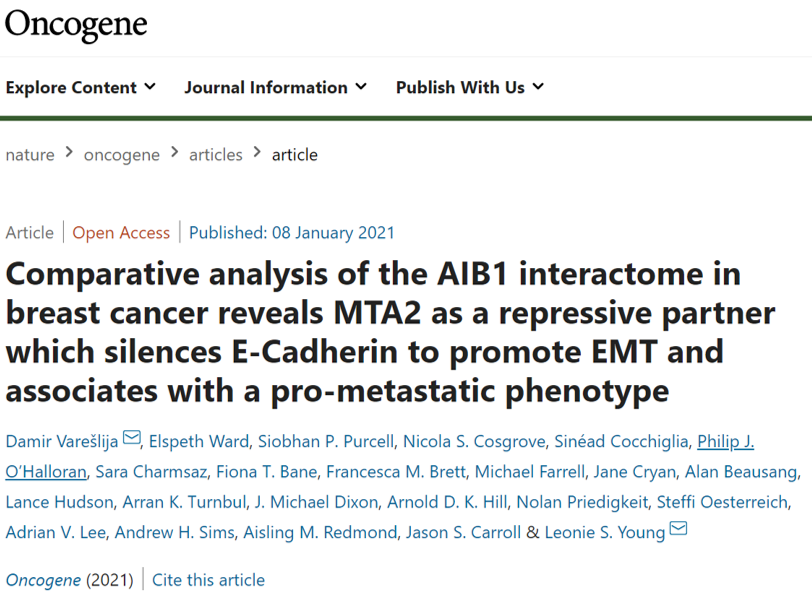 19.11.2020
Congratulations to Sara and Ben on getting their work on ADAM22 published in BMC medicine. Very exciting.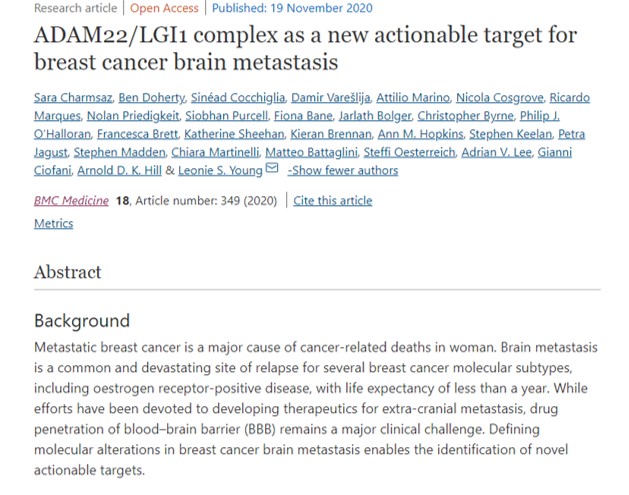 02.11.2020
Congratulations to Prof Leonie Young and Prof Arnold Hill for securing funding from the SFI Frontiers for the Future Programme.
Minister @SimonHarrisTD @DeptofFHed today announced 71 research grants through the SFI Frontiers for the Future Programme valued at €53 million https://t.co/bK8o9lqo52 The programme was run in collaboration with @GeolSurvIE and @EPAIreland pic.twitter.com/IBLEIpTV1T

— SFI (@scienceirel) November 2, 2020
08.10.2020
A huge congratulations ,to @damirvareslija who has been awarded a five- year fellowship with @BreastCancerNow in partnership with @WalktheWalk to study metastatic breast cancer. A huge achievement and we couldn't be prouder #BreastCancerAwarenessMonth
Breast Cancer Now is delighted to award a new five-year Fellowship to Dr Damir Vareslija at the @RCSI_Irl to study secondary breast cancer, thanks to the support of long-standing partners @WalktheWalk. Read more about the announcement here: https://t.co/g8TtUYvYGk pic.twitter.com/DW5RNn1dVW

— Breast Cancer Now (@BreastCancerNow) October 8, 2020
October 2020
Big congratulations to Stephen Keelan who secured a PhD studentship funding from IRC to pursue his PhD studies in EORG group!
Congratulations to Stephen from our lab @Endoadapt and to all the Scholars and Fellows in @RCSI_Irl granted awards from The Irish Reseach Council @IrishResearch 👨🏻‍🔬👩🏻‍🔬🙌 well done all! @RCSI_Research https://t.co/vJUo0LTLiC

— EORG (@Endoadapt) October 23, 2020
18.08.2020
Big congratulations to Karen Crowley for successfully defending her thesis (virtually).
Another one down! Congratulations Dr. Crowely @Karencrow_RCSI . Well deserved🥳 celebrate tonight with a sip of something nice for every "heterogeneous" written in your thesis. 😆 And enjoy a well earned rest! https://t.co/i3fUlx18ak

— EORG (@Endoadapt) August 18, 2020
20.07.2020
What a phenomenal achievment Cara for @BreastCancerIre 🙌 We really enjoyed meeting you and showing you around the lab, hopefully in the not so distant future you can return and meet the whole research team. @100kin30days @RCSI_Irl @RCSI_Research https://t.co/bhgveTKTAZ

— EORG (@Endoadapt) July 20, 2020
08.08.2020
New collaborative paper from our group just published in Cancer Research.
We collaborated with 20 international labs to report the BrMPanel, the first comprehensive resource for organotropic cancer cell lines metastatic to the brain @Endoadapt @RCSI_Research @BreastCancerNow @EACRnews @News_IACR https://t.co/TMN3XaI7Qd

— Damir Varešlija (@damirvareslija) July 8, 2020
04.03.2020
Congrats to Damir for winning the senior researcher poster prize at the IACR.
Really honoured and surprised to receive the senior researcher poster prize. It's not how I present but the actual science that is on the poster so Id like to thank all my co-authors and lab colleagues. Also thanks @News_IACR for a beautiful trophy 🏆 @RCSI_Research @Endoadapt https://t.co/xLZIJUzafN pic.twitter.com/vHvMZQnQQd

— Damir Varešlija (@damirvareslija) March 4, 2020
04.02.2020
World Cancer Day 2020
A special thank you to @BreastCancerIre, patient ambassadors and advocates for a lovely morning. It was a humbling experience to listen to all your stories. pic.twitter.com/P85rpHNWOA

— EORG (@Endoadapt) February 4, 2020
04.12.2019
💡Bright spark of the lab today! 🤗Congratulations to Dr. @BleachRachel on passing her viva today. A great achievement. Well done and well deserved, from all of us @Endoadapt 👩🏼‍🔬👩🏼‍🎓.
#rcsidiscover @marie_mcilroy @BreastCancerIre https://t.co/9MUyOQxAWY

— EORG (@Endoadapt) December 4, 2019
27.11.2019
Delighted to be part of the Precision Oncology Strategic Partnership Programme @PrecisionOncIre. A consortium of government, university, industry and charities funding Irish Cancer Research. @scienceirel @BreastCancerIre @RCSI_Research @TracyRobsonMCT @RCSIPharmBioMol pic.twitter.com/0yBUg93pcl

— EORG (@Endoadapt) November 27, 2019
16.08.2020
Gordon Hormone Dependent Cancer Conference. Leonie Young has been made a co-chair for 2021 meeting and chair for the 2023. Very exciting.
Spot our scientists! Prof. Leonie Young & Dr Vareslija @damirvareslija from @Endoadapt who presented at #hrcgrc19 last week. The meeting was a huge success so a big thank you to all the organisers and everyone who attended ⬇️. @RCSI_Research #rcsidiscover @BreastCancerIre https://t.co/JPTFMr9p9x

— EORG (@Endoadapt) August 16, 2019
08.08.2020
Join @BREAST_PREDICT on Monday 2nd September in @RCSI_Irl for a public seminar to celebrate the centre's 6th anniversary. Details & free reg: https://t.co/ex0bm4nrt4 @myleftbust @IrishCancerSoc @DrRobertOConnor @Dr_ClaireK @RCSI_Research @EuropaDonnaIrel @MarieKeating @News_IACR pic.twitter.com/w0rGQytgoy

— BREAST-PREDICT (@BREAST_PREDICT) August 8, 2019
28.06.2019
Thank you @damirvareslija who gave a talk today at the Brain Metastasis research symposium in Vienna. Spreading the word around, about the work we do here on metastatic breast cancer @Endoadapt @RCSI_Irl #rcsidiscover
@BreastCancerIre https://t.co/6eRFKnykyp

— EORG (@Endoadapt) June 28, 2019
01.08.2018
20.6.2018
Our lab is delighted that the study looking at breast cancer brain metastasis is accepted and available online. Congratulations to all involved.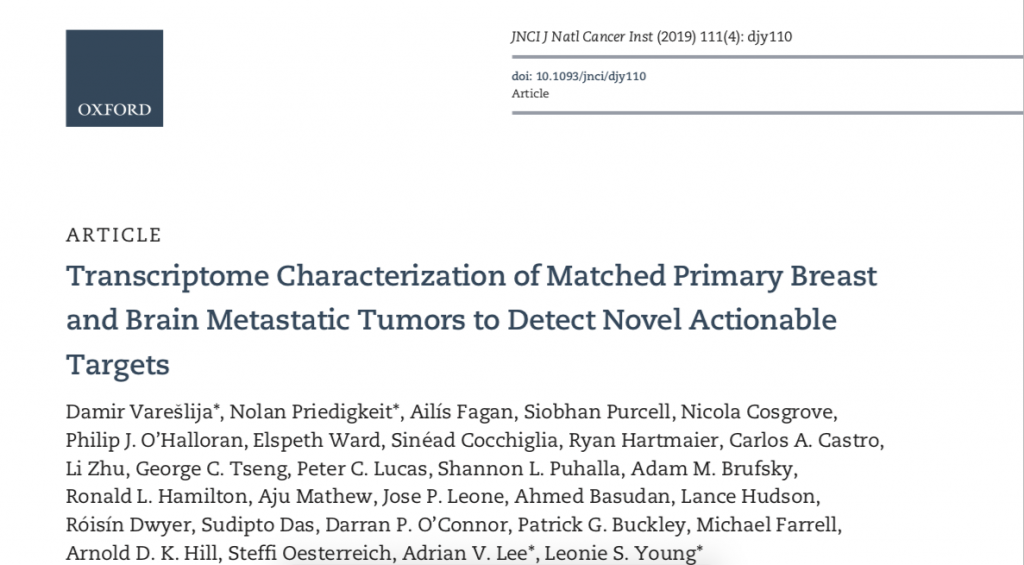 22.3.2017
Freshly accepted paper by the lab now online in Clinical Cancer Research. Congratulations to lead author Elspeth Ward and the rest of the co-authors. Online first version of the paper:
http://clincancerres.aacrjournals.org/content/early/2018/03/22/1078-0432.CCR-17-2615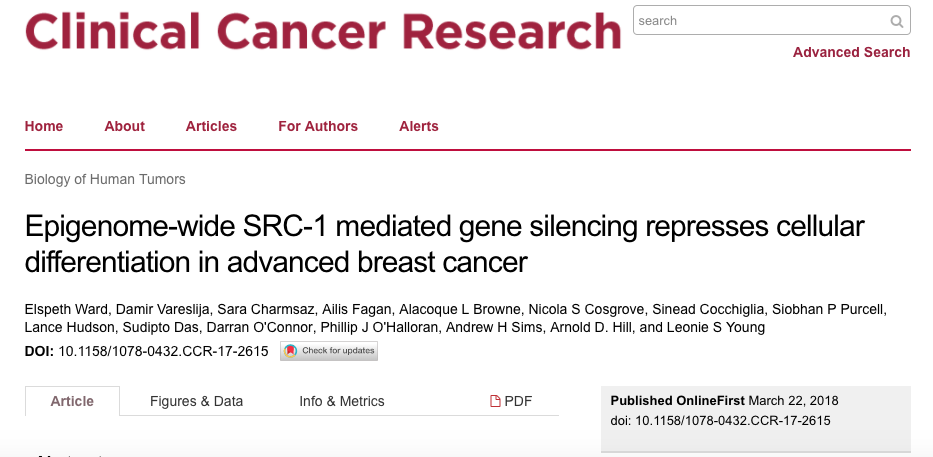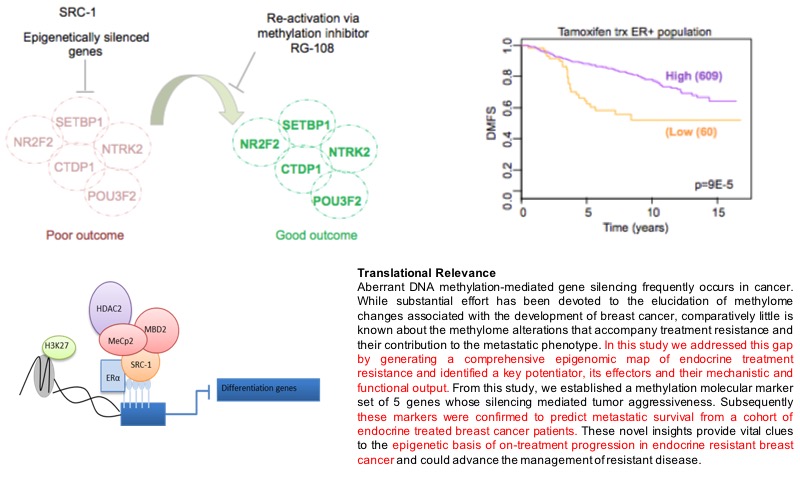 26.1.2017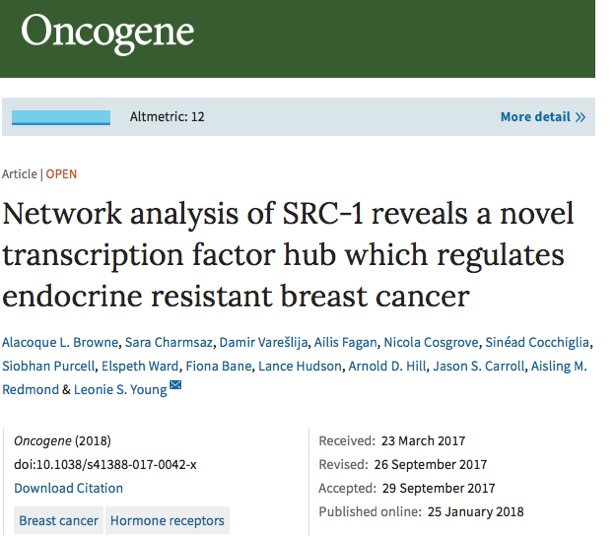 New study from our lab published in Oncogene, led by freshly PhD'd Alacoque Browne on hormone-independent role of SRC-1 in breast cancer progression.
https://www.nature.com/articles/s41388-017-0042-x
18.1.2017
Another one bites the dust. Our second successful viva in as many weeks.
Congratulations to  Elspeth Ward on becoming Dr. Elspeth Ward.
11.1.2017.
Big congratulations to Dr. Alacoque Browne on successfully defending her viva. Celebrations all around.